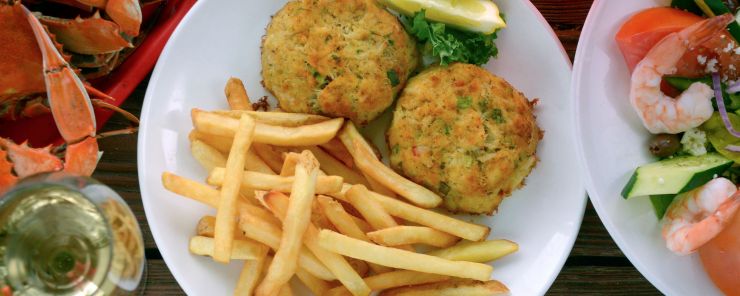 BUBBLES & ROSE
ZONIN

9
Prosecoo, Splits
GEMMA DI LUNA

10
Moscato, Splits
Los Dos

9

28
Rose, Spain
GRAHAM BECK

39
Brut Rose, CA
VOIRIN JUMEL

80
Champagne, France
BIELER PERE ET FILS

10

36
"Sabine" Rose, France
WHITES
LAGARIA

9

28
Pinot Grigio, Italy
ACROBAT

36
Pinot Grigio, OR
SANTORINI

13

44
Assyrtiko, Greece
PONGA

9

28
Sauvignon Blanc, New Zealand
PAZO DAS BRUXAS

42
Alabrino, Spain
GEN5

9

28
Chardonnay, Australia
KENDALL JACKSON

11

39
Chardonnay, VA
SEAGLASS

9

28
Riesling, Monterey County
BERINGER

9

28
White Zinfandel, California
REDS
CYCLES GLADIATOR

9

28
Pinot Noir, CA
MEIOMI

12

39
Pinot Noir, CA
SKYFALL

12

39
Merlot, Columbia Valley
TILIA

9

28
Malbec, Argentina
IMAGERY

11

39
Cabernet Sauvignon, CA
19 CRIMES-THE WARDEN

12

39
Blend, Australia
EOS*

9

28
Cabernet Sauvignon, California
BLUE EYED BOY

88
Shiraz, Australia
PURPLE PARADISE

39
Zinfandel, Paso Robles
BOTTLED BEER
BUD LIGHT
BUDWEISER
BOLD ROCK CIDER
COORS LIGHT
CORONA
CORONA LIGHT
DOS EQUIS
FAT TIRE
HEINEKEN
HEINEKEN ZERO
MICHELOB ULTRA
MILLER LITE
RED STRIPE
SAM ADAMS LAGER
STONE IPA
STELLA ARTOIS
PATRON MARGARITA: Patron Silver, Triple Sec, Lime Juice, Sour Mix
BUBBA'S CRUSH: a new local favorite with vanilla vodka, fresh strawberry puree, banana liqueur & sprite
BAY LEMONADE fresh strawberry puree & lemonade with your choice of Absolut or Tito's Vodka
LYNNHAVEN RUM PUNCH Bacardi Silver, Captain Morgan, Bacardi Coconut & fruit juices, topped with a Myers Rum float
WHAT THE DUCK a classic local favorite with vodka, rum, gin, triple sec, fresh strawberry puree, sour mix & sprite
BAYSIDE REFRESHER muddled cilantro, cucumber & lime, with Tito's or Tanqueray, topped with a splash of sprite & soda water
SUNSET SANGRIA a blend of red wine, blackberry brandy & triple sec, topped with fruit juices
WHITE ISLAND SANGRIA a blend of whit ewine, peach schnapps & triple sec, topped with fruit juices
BUBBA'S MARTINI Bacardi Coconut, peach schnapps, & cranberry juice
TITO'S MULE Tito's Vodka, ginger beer & fresh lime juice
NEPTUNE'S CROWN crown royale, tuaca, & pineapple juice
SHIPWRECKED bacardi coconut, blue caracao, pineapple & cranberry juice with a splash of sprite
BUBBA'S MIMOSA Champagne, chambord, orange juice, & grand marnier
BLOODY MARY vodka & our house made bloody mary mix
MIMOSA classic champagne & orange juice
SUMMER BREEZE Absolut Citron & peach schnapps mixed with pineapple & cranberry juices
CRUSHES flavored vodka, triple sec & sprite, paired with the juice of your choice (oj, grapefruit, cherry limeade, strawberry, key lime pie, orange creamsicle)
RAW BAR
Hand Shucked, raw or steamed
LOCAL OYSTERS steamed or by half shell
half dozen $14.95
dozen $23.95
STEAMED SHRIMP
half pound $12.95
pound $20.95
STEAMED MIDDLENECK CLAMS
half dozen $8.95
dozen $15.95
---
*STUFFED MUSHIES $13.95
Juicy mushroom caps baked & stuffed with fresh crab meat. Served by the half dozen.
SHRIMP COCKTAIL $8.95
5 juicy shrimp served with house cocktail sauce
OYSTERS ROCKAFELLER $13.95
Fresh oysters baked with spinach, bacon & cheese
FRIED CALAMARI $13.95
Fresh, lightly fried calamari served with our homemade chipotle aioli sauce
THE SOUTHERN BAY $11.95/$22.95
Lightly fried shrimp served in half dozen or a dozen with our house cocktail sauce
---
SHE CRAB SOUP $7.95
Voted best in VB, served in a cup
NEW ENGLAND CLAM CHOWDER $5.95
The creamy classic, served in a cup
FRESH GARDEN SALAD
Side / Large $4.95/7.95
CLASSIC CAESAR SALAD
Side / Large $4.95/7.95
GREEK SALAD $11.95
Tomato, sliced cucumber, green pepper, sliced red onion, Kalamata olives, and of course, feta cheese
Add a Protein (large salads only)
Chicken, grilled or blackened
Tuna, Grilled or Blackened
Chilled Shrimp
Fresh Catch of the Day
Fried Calamari
Tuna Salad
$8
*Crabcake, Broiled or Fried
market price
---
BURGERS & SANDIES
All burgers & sandies are served with your choice of fries or coleslaw
*OUR FAMOUS CRABCAKE SANDY market price
Premium lumb crabcake, fried or broiled
SOFTSHELL CRAB SANDY market price
when available
YELLOWFIN TUNA STEAK SANDY $15.95
Fresh cut, blackened or grilled, served with tangy teriyaki sauce
TUNA SALAD SANDY $14.95
Our famous and homemade sandy is a fresh caught classic
CLASSIC CHICKEN SANDY $13.95
All natural grilled chicken breast with teriyaki sauce
EASTERN SHORE SANDY $14.95
Lightly fried oysters
CLASSIC BURGER $12.95
add cheese for an additional $2
*BUBBA BURGER $17.95
Our most popular burger, topped with cheese, bacon & crabmeat
LYNNHAVEN SANDY $14.95
Fresh fish sandy.
*BUBBA CHICKEN SANDY $17.95
Our most popular grilled chicken sandwich, topped with cheese, bacon, & crabmeat
---
BUBBA'S SIGNATURE ENTREES
Our dinners are served with both french fries and cole slaw. Substitute our veggie of the day for an additional $2.95.
*CRABCAKE DINNER market price
Two premium lump crabcakes broiled or fried.
SOFTSHELL CRAB DINNER market price
when available
BUBBA'S BAKED SCALLOPS $24.95
Sea scallops, baked with chopped onion & bell peppers
*BROILED SEAFOOD PLATTER $32.95
A stuffed mushroom, an oyster rockafeller, sea scallops, fresh fish & crab imperial topped with shrimp
SOUTHERN BAY DINNER $23.95
Lightly fried shrimp, served with our house cocktail sauce
INSHORE DINNER $19.95
Grilled or blackened chicken breast marinated in tangy teriyaki sauce
EASTERN SHORE DINNER $22.95
Lightly battered and fried oysters
---
FRESH CATCH OF THE DAY
Delivered from our boats to our dock daily. Ask your server for today's selections!
Yellowfin Tuna
Mahi Mahi
Cobia
Founder
Sword Fish
Tautog
Red Snapper
Rockfish
Salmon
Sheepshead
Speckled Trout
---
CHESAPEAKE BAY BLUE CRABS
Delivered to our dock daily!
***STEAMED JIMMIES
Per dozen, market price when available
SNOW CRAB LEGS
market price when available
---
FOR OUR LITTLE MINNOWS
CHICKEN TENDERS - $8.550
CHEESY BREAD - $6.95
---
| | |
| --- | --- |
| CHEESY BREAD | $5.95 |
| FRENCH FRIES | $3.95 |
| | |
| --- | --- |
| COLE SLAW | $3.95 |
| STEAMED VEGGIES | $3.95 |
---
FOR YOUR INFORMATION:
Bubba's does not accept reservations.
We want you to know, we appreciate your visit, as we are a sustainable establishment with the goal of doing our part to preserve and re-instate the wellness of our local environmant and support environmental efforts around the world. Please enjoy your meal knowing that you have contributed to our giveback.
For parties of 6 or more, a 20% gratuity wil be added.
Consuming raw or undercooked meat, seafood, cheese or egg products can increase your risk of food borne illness.
Please advise your server of any allergies or dietary restrictions.
*We use the very finest crabmeat available & exercise extreme care in picking the crabmeat. Occasionally, shell fragments are unavoidable.
*** Market Price
KEY LIME PIE
Our original. Homemade with a graham
cracker crust and tartly refreshing.
Topped with whipped cream
CARROT CAKE
Our secret family recipe.
Homemade with shaved carrots, coconut
pineapple, pecans and finished
with a smooth cream cheese icing
MOLTEN CHOCOLATE CAKE
For our chocolate lovers.
Deeply chocolate, enrobed in chocolate
& filled with dark chocolate truffle.
Served warm & delicious with vanilla icecream on top
VANILLA ICE CREAM
For our little minnows with a sweet tooth.
Served with sprinkles on top.
CARAMEL BROWNIE CHEESECAKE
White chocolate cheesecake entwined with
gooey pockets of salted Dulce de Leche caramel
& scattered with chocolate brownie bites