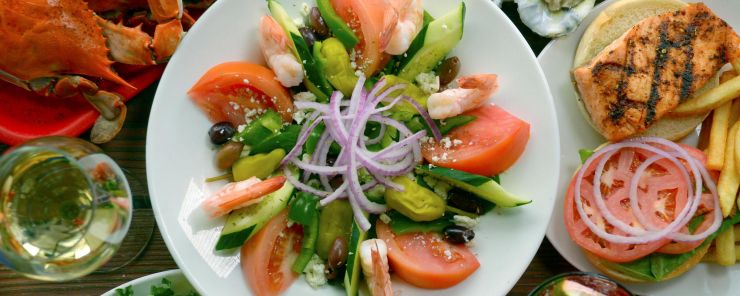 APPETIZERS
Served family style on the table
HUSH PUPPIES CHEESY BREAD
SIDE SALAD
STEAMED SHRIMP
FRIED CALAMARI
OYSTERS ROCKAFELLER
---
SANDWICHES & SALADS
A personalized menu will be made for your event. All sandwiches are served on a deli roll with lettuce, tomato, & ontion with a choice of french fries of cole slaw.
Choose 2 from any of the following:

CRABCAKE SANDWICH
Broiled or Fried, absolutely the best!
SOFT SHELL CRAB SANDWICH
When Available
BUBBA BURGER
The classic burger with cheese, bacon,
& crabmeat - Hamburgers or
Cheeseburgers also available.
FRESH TUNA STEAK SANDWICH
Grilled, Blackened, or Teriyaki Style
FRESH TUNA SALAD SANDWICH
EASTERN SHORE SANDWICH
Oysters Lightly Fried
LYNNHAVEN SANDWICH
Fish of the Day, Fried, Broiled, or Grilled
BUBBA CHICKEN SANDWICH
A Chicken Teriyaki Sandwich with Cheese, Bacon, & Crabmeat
BUBBA"S CAESAR SALAD OR FRESH ORGANIC GARDEN SALAD with:
Grilled or Blackened Chicken,
Broiled or Fried Crabcake, or
Today's Fresh Catch
---
Package #1
Non-alcoholic beverages,
one appetizer, Lunch Entree, Dessert
ask about our per person pricing
Package #2
Non-alcoholic beverages,
one appetizer, Lunch Entree
ask about our per person pricing
Package #3
Non-alcoholic beverages,
Lunch Entree, Dessert
ask about our per person pricing
Package #4
Non-alcoholic beverages,
Lunch Entree
ask about our per person pricing
All prices are before 11.5% tax and 20% gratuity.
---
Desserts
Choose from a variety of
homemade desserts, or bring
your own for $3 per person
Beverages
Soda, iced tea & water included in all packages.
Additional Information
Bar options

Full open bar
Limited open bar (i.e.. beer & wine only)
Consumption bar (host covers alcoholic beverages to a preset dollar amount)
Cash bar (guests pay for their own drinks)

Additional appetizers may be included for $7 per person.
A $3 per person charge will be added for bringing your own dessert. We will plate & serve.
Available seating times discussed at the time of your booking.
Special requests can be discussed & priced (if available)

Additional entree choices
Dietary restriction entree options (vegetarian and/or allergies)
Table linens, centerpieces & other decorative items

In order to reserve the date & time of your event, we require

A credit card number with a signed contract
A $200 non-refundable deposit

Final menu selections must be made 2 weeks prior to your event
Final headcount must be submitted 1 week prior to your event

This is the maximum number of seats that will be provided & cannot be adjusted after the 1 week mark. This will determine your final balance.
If you want a custom menu title, please provide this with your final guest count

We do not charge a room fee. If your count is less than what the area holds, be aware that others may be seated there.
You may choose to provide seating arrangement & guests' entree selections prior to your event for a faster service
---
We want you to know, we appreciate your visit, as we are a sustainable establishment with the goal of doing our part to preserve and re-instate the wellness of our local environmant and support environmental efforts around the world. Please enjoy your meal knowing that you have contributed to our giveback.
*Consuming raw or undercooked meat, seafood, cheese or egg products can increase your risk of food borne illness. Please advise your server of any allergies or dietary restrictions.
We use the very finest crabmeat available & exercise extreme care in picking the crabmeat. Occasionally, shell fragments are unavoidable.