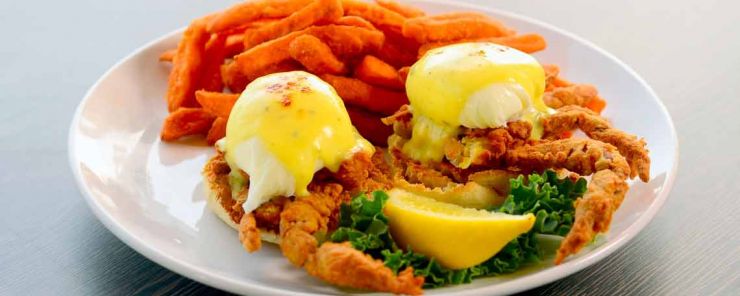 HOME FRIES $2.95
LOADED HOME FRIES $5.95
Topped with bacon and cheese
BISCUITS $4.95
4 biscuits served with jam & butter
BOWL OF FRUIT $3.95
Assortment of fruit to start your day right
---
BASIC BFAST
All basic bfasts are served with home fries. To substitute a side of fruit, add an additional $2.95
TWO EGG BFAST $7.95
Served any style with your choice of bacon or sausage, toast or biscuit.
CROISSANDWICH $8.95
Bacon, egg, & cheese on a toasted croissant.
FRENCH TOAST $7.95
Topped with powdered sugar
BLUEBERRY FRENCH TOAST $9.95
Fresh blueberries baked in the toast
BUTTERMILK PANCAKES $8.95
3 fluffy buttermilk pancakes
BLUEBERRY PANCAKES $9.95
Fresh blueberries baked in the pancakes
BISCUITS AND GRAVY $6.95
2 biscuits with gravy
---
BUBBA'S OMELETTES
All omelettes are served with home fries and your choice of toast or biscuit.
To substitute home fries with a side of fruit˛ add an additional $2.95
Substitute egg whites for $1
THE BUBBA $12.95
Our most popular omelette. Crabmeat, scallops, shrimp & cheese.
THE PLAIN JANE $7.95
Your basic cheddar cheese omelette.
THE VEGGIE $9.95
Green peppers, onions, tomato & cheese.
THE GREEK $10.95
Grilled onions, green peppers, tomatoes, baby spinach, mushroom, and feta
BUILD YOUR OWN $10.95
Pick up to 4 items:
Cheddar, Provolone
or Feta
Bacon
Ham
Mushrooms
Tomatoes
Spinach
Green Peppers
Onions
---
BUBBA'S BENNIES
All favorites are served with home fries. To substitute with a side of fruit, add $2.95
EGGS BENNY $9.95
Eggs, Canadian Bacon, Hollandaise on an English muffin
BUBBA BENNY $15.95
Eggs, Canadian Bacon, Crabmeat, Hollandaise on an English muffin.
SMOKED SALMON BENNY $15.95
With creamcheese on an english muffin.
SOFTSHELL BENNY *MP
*When available*
---
FOR OUR LITTLE MINNOWS
SCRAMBLED EGGS, CINNAMON APPLES, & A BISCUIT - $4.95
Ask your server for our kids menu & crayons
---
EXTRA FIX INS
just in case you want a little more
| | |
| --- | --- |
| CINNAMON APPLES | $2.95 |
| HOME FRIES | $2.95 |
| SAUSAGE LINKS | $2.95 |
| BACON | $2.95 |
| TOAST | $2.95 |
---
BASIC BEVERAGES
COFFEE OR TEA $2.95
JUICES $2.95
Pineapple, Grapefruit, Tomato, Apple.
FRESH SQUEEZED OJ $4.95
MILK $2.95
Chocolate or regular
SODAS $2.95
Pepsi products
MOCKTAILS
MOCK-MOSA $4.95
Sparkling water with fresh squeezed OJ
SHIRLEY TEMPLE $3.25
Take us back to the good ole days
MORNING PUNCH $5.50
Fresh squeezed OJ with a splash of grenadine
ROY ROGERS $3.25
Pepsi with a splash of grenadine
MIMOSAS $7.00
Champagne with your choice of juice
MIMOSA PITCHER $8.00
Mini pitcher of a mimosa, our Sunday special!
BUBBA-MOSA $9.50
Champagne, Chambord, orange juice & Grand Marnier
WHITE RUSSIAN $6.95
Vodka, Kahlua, & cream
BUBBA'S SPIKED COFFEE $7.95
Our version of an Irish coffee
BLOODY MARY $7.00
Vodka & our home made bloody mary mix
BLOODY PITCHER $8.00
Mini pitcher of a bloody mary, our Sundy special!
Spice up your bloody with the following toppings.
Old bay rim, pickles, olives, celery $1.95
Lump crabmeat $6.95
Softshell (*when available) $13.95
Raw oysters $1.95
Bacon $1.95
MIMOSA CRUSH $8.95
Flavored vodka, triple sec, sprite, champagne and orange juice
BUBBA'S CRUSH $9.95
A new local favorite with vanilla vodka, fresh strawberry puree, banana liqueur & Sprite
MORNING CRUSH $7.50
A traditional crush, renamed because it's okay to drink it in the morning too.
---
For Your Information - No Reservations
We want you to know, we appreciate your visit, as we are a sustainable establishment with the goal of doing our part to preserve and re-instate the wellness of our local environmant and support environmental efforts around the world. Please enjoy your meal knowing that you have contributed to our giveback. For parties of 6 or more, a 20% gratuity wil be added.
*Consuming raw or undercooked meat, seafood, cheese or egg products can increase your risk of food borne illness. Please advise your server of any allergies or dietary restrictions.
We use the very finest crabmeat available & exercise extreme care in picking the crabmeat. Occasionally, shell fragments are unavoidable.